WC Recon SR Tactical 300 BLK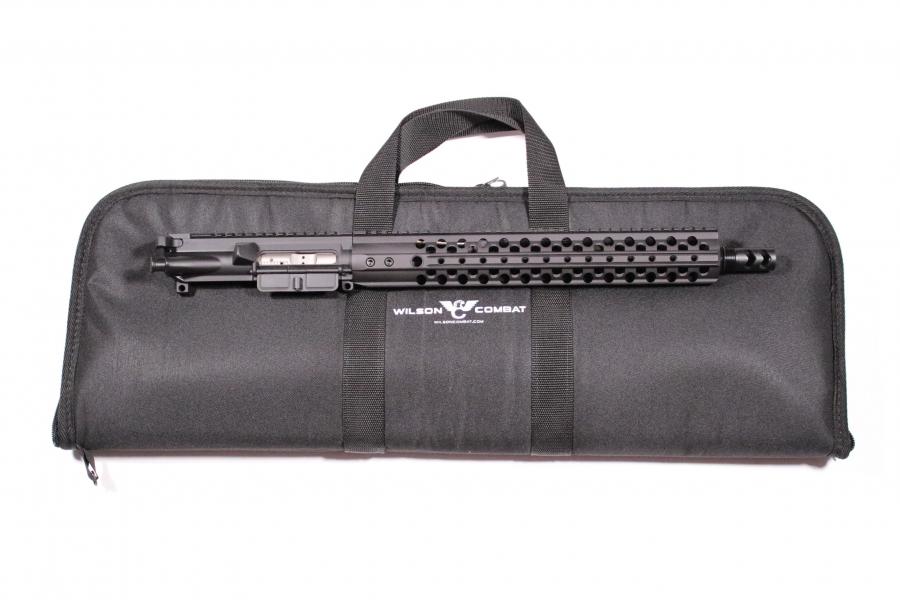 WC RECON SR TACTICAL 300 BLK
Wilson Combat Complete High Performance AR Uppers
Our complete High Performance AR Upper Receiver Units use the same top tier components, skilled gunsmith assembly and final finishing as our prized custom AR rifles that we have expertly built since 1999.
The Wilson Combat machined, hand polished, match grade stainless barrel is the core of these accurate and reliable upper units that will turn your lower into a custom AR rifle well equipped for hunting, duty or tactical competition.
Other Wilson Combat components like our versatile and lightweight TRIM rail, Accu-Tac flash hider and NP3 bolt carrier assembly with ensure that your upper exceeds your cosmetic and performance expectations.
Each Wilson Combat High Performance custom upper is test fired and finished in our Armor-Tuff coating and is certified to drop on and function with any mil-spec, AR lower unit.
300 AAC Blackout
The 300 Blackout (300 BLK) was designed by Remington/AAC to create a reliable, compact .30 caliber round for the AR platform that uses a standard bolt and magazine. 300 Blackout is optimized for suppressed fire with heavy bullet subsonic loads but can also be used with supersonic ammunition when extra range is needed.
Upper Specifications
Upper Receiver Forged 7075-T6
Laser Etching Wilson Combat Logo and Caliber
Handguard Tactical Rail Interface, 13.8"
Gas Block Lo-Profile
Bolt Carrier Assembly NP3 Plated
Muzzle Device Rapid Thread Muzzle Brake - (Permanently Attached)
Finish Armor-Tuff® on Upper Receiver and Barrel
Barrel Specifications
Chamber 300 AAC Blackout
Feed Ramps M4 Style
Gas Block Seat .750" Diameter by .920" Length - Dimpled for Set Screw
Gas System Pistol Length
Length 14.7" (16" with Welded RTMB)
Material Stainless Steel, Type 416R, Barrel Grade
Muzzle Threads 5/8" x 24
Profile Recon Tactical
Rifling 1:7, RH, Six Groove, Precision Button Rifling
Weight 24.6 oz.
Item Info
| | |
| --- | --- |
| Item | Available In Store |
| UPC | TR300RCS1 |
| Brand | wilson |
| Model | RECON SR TACTICAL |
| Mfg No | TR300RCS1 |
| Caliber | .300 Blackout |