WC X-tac Elite Carry Comp Compact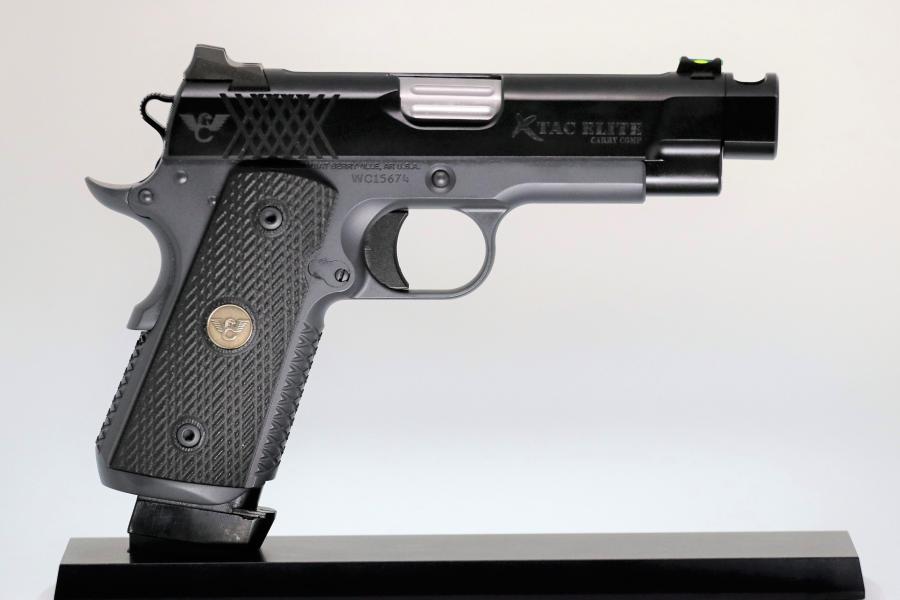 WC X-TAC Elite Carry Comp Compact
In on consignment is this gently used Wilson Combat X-TAC Elite Carry Comp Compact in 9mm. There is a little light wear on the end of the comp (as seen in the pics) as well as a little on the left side at the carry cut. Otherwise, this pistol is in great shape!
Here's the description from Wilson Combat:
The New Wilson Combat X-TAC Elite Carry Comp is available in 9mm and .45 ACP for the ultimate soft shooting and accurate carry gun experience. Our exclusive compensator design tames muzzle flip with high performance carry ammo and reduces perceived recoil of your Compact or Professional size pistol to less than that of a full-size gun. This one-piece billet machined compensator barrel has no threads or joints to loosen and the short but efficient profile fits in any standard, full size 1911 holster.
SPECIFICATIONS
Compact Size Carbon Steel Frame
Unique X-TAC Frontstrap/Mainspring Housing Treatment
Bullet Proof® Round Butt Magazine Well
Concealment Bullet Proof® Beavertail Grip Safety and Hammer
Tactical Bullet Proof® Thumb Safety
3 ½# – 4 ½# Crisp Trigger Pull with Medium Length Pad
Bullet Proof® Magazine Release
Black G10 Slant Pattern Grips with Pewter Medallions
Torx Head Grip Screws
Countersunk Slide Stop
4" Carbon Steel Slide
Unique X-TAC Rear Cocking Serration Treatment on Slide
Heavy Machine Chamfer on Bottom of Slide
Battlesight with Fiber Optic Front Sight
4" Stainless Match Grade Compensated Barrel, Hand Fit
Fluted Chamber
30 LPI Slide Top Serrations
40 LPI Serrated Rear of Slide
Carry Cuts/Ball Endmill Cuts
Item Info
| | |
| --- | --- |
| Item | Available In Store |
| UPC | 1WC15674 |
| Brand | Wilson Combat |
| Model | XTAC Elite Carry Comp Compact |
| Mfg No | 1WC15674 |
| Caliber | 9mm |