Wilson Combat Tactical Carry Compact 9mm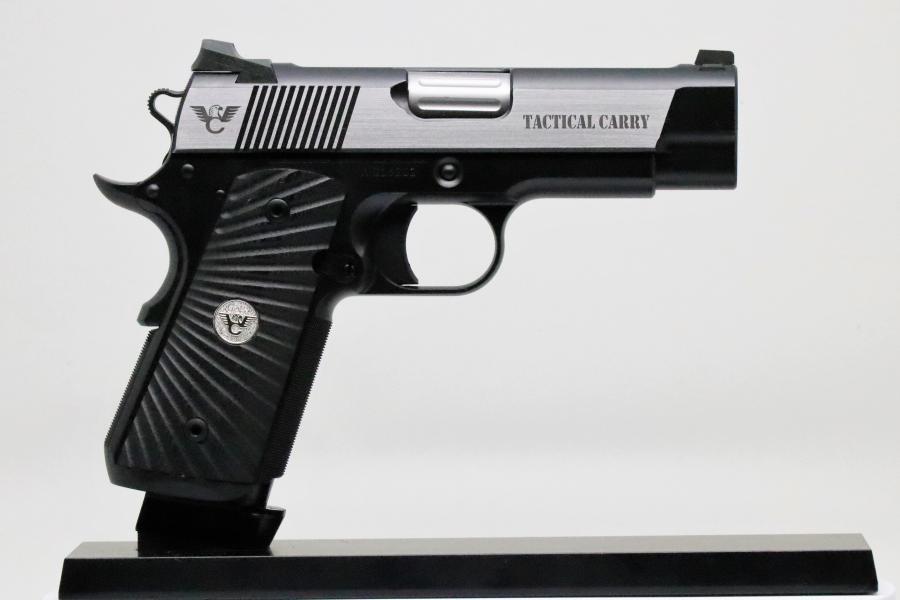 Wilson Combat Tactical Carry Compact 9mm Reverse 2 Tone
Manufacturer: Wilson Combat
Model: Tactical Carry Compact - Reverse 2 Tone
Caliber: 9mm
Sights: Battlesight Rear w/ Tritium Front Sight
Barrel Length: 4"
Condition: New
Other Features/ Manufacturer's Description:
"The Tactical Carry Compact has been designed by Bill Wilson as a next generation custom pistol and is an ideal choice as an everyday carry piece. The full-size steel frame and 4" Compact upper fitted with our Bullet Proof ® round butt one-piece magwell is a practical carry choice for shooters seeking a full size grip. The Tactical Carry Compact also comes complete with many of our most popular performance and cosmetic options, like carry cuts, ball end mill slide cuts, serrated top and rear of slide and countersunk slide stop post. The reduced profile concealment grip safety and hammer in conjunction with round butt magwell guarantees that the Tactical Carry Compact will be a Bullet Proof® performer for you on the range or on the street.
• Compact Size Carbon Steel Frame
• 30 LPI High Cut Checkered Frontstrap
• Bullet Proof® Round Butt Magazine Well
• Concealment Bullet Proof® Beavertail Grip Safety and Hammer
• 3 ½# - 3 ¾# Crisp Trigger Pull with Medium Length Pad
• Bullet Proof® Magazine Release
• G10 Starburst Grips with Silver Medallions
• Torx Head Grip Screws
• Countersunk Slide Stop
• 4" Stainless Steel Slide, Black AT with Polished Sides
• Heavy Machine Chamfer on Bottom of Slide
• Battlesight with Fiber Optic Front Sight
• 4" Stainless Match Grade Cone Barrel, Flush Cut Reverse Crown
• Fluted Chamber
• Fluted Barrel
• 30 LPI Slide Top Serrations
• 40 LPI Serrated Rear of Slide
• Carry Cuts/Ball Endmill Cuts"
Item Info
| | |
| --- | --- |
| Item | Available In Store |
| UPC | 0016202 |
| Brand | wilson |
| Model | Tactical Carry Compact |
| Mfg No | 0016202 |
| Caliber | 9mm |